In an amazing show of strength, compassion and commitment, 63 Neurokinex clients aged five to 75 and 14 family members and friends embraced the 2023 Step Up Challenge which was to row as far as they could go on Concept2 rowing machines.
Alongside them for every metre – and rowing themselves to clock up the distance – were 18 Neurokinex trainers. It was a massive team effort. And a massive success!
The Step Up Challenge ran for one week – Monday September 4th to Sunday September 10th – across all three Neurokinex sites at Gatwick, Hemel Hempstead and Bristol. Central to the week-long challenge was a three-day rowing relay which started in Gatwick, then went to Hemel before finishing in Bristol. These days saw a tremendous and focused effort with the aim being to keep the rowing going non-stop for 10 hours each day.
The target was to row 250KM and raise £25,000 to safeguard the Step Up Scheme for another year.
The Step Up Scheme survives through donations
The Step Up Scheme at Neurokinex provides a lifechanging series of six free rehabilitation sessions to anyone with a new spinal cord injury. It is an absolute lifeline, enabling people to access our world-class facilities and expertise. The scheme costs the Neurokinex Charitable Trust £420 per person to fulfil and relies totally upon donations for its funding and survival.
Family fun
Families and friends are familiar faces at Neurokinex as they support their loved ones' rehab sessions. But to see them get on board to keep the rowing going was a joy to see. Young and adult brothers and sisters took part, husbands and wives rowed alongside their spouses and friends took a turn in the saddle as well. We even had one canine friend (Digger) join in riding on the back of one support rower. And, yes, he did get a medal. Running alongside the activity, our bake sales kept people energised with cake – and raised £476 as well!
They Smashed it!
Rowing 250km is quite some distance, especially when the majority of participants have a spinal cord injury and many were new to indoor rowing.  But we needn't have worried: the compassion, commitment and not a little competitive spirit saw the teams rise to the Step Up Challenge and smash through the 250KM target by day three.  And they just kept going and rowing – completing a mighty 440KM by the end of the week. A phenomenal achievement!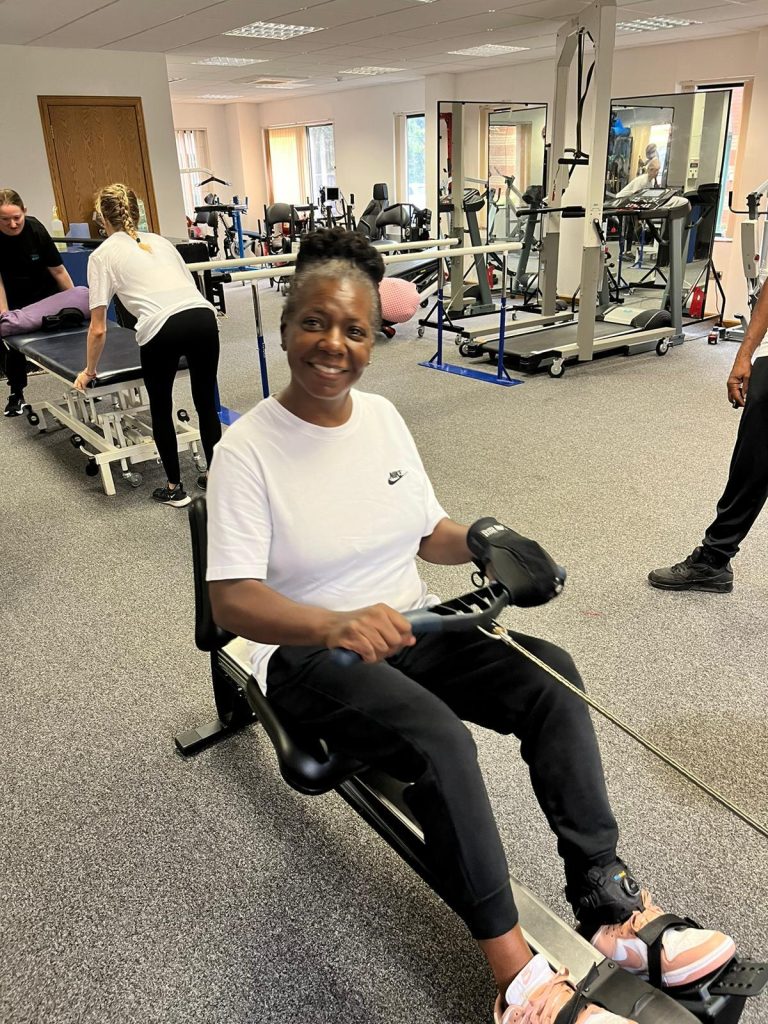 A few shout outs
Whether people rowed one metre or 10,000 metres, it all counts and is all appreciated. We thank everybody who took part in the rowing, supported people doing the challenge, sponsors, cake bakers and cake buyers!
A few clients who really went the extra mile to literally pull through on the Step Up Challenge included:
Valentina covered a marvellous 8KM rowing for one hour non-stop
Cassie completed a massive 10KM, also in one go
George doubled his target distance and achieved 5KM
Adrian surpassed his goal with a great 6KM
Kevin did likewise, totalling 4KM
Paul clocked a brilliant 3.25KM
Sharon was determined to reach 5KM – she did that then added an extra 2KM!
Sarah had set herself a huge target of 5KM rowing in a standing frame: despite needing an infusion midweek which makes her drowsy and increases spasms, she returned on the Friday to complete her distance.
Tim gave it his all to complete 5KM
David smashed his 2K target to row 2.5KM
Pauline sailed through her target of 7,500KM to manage 10,200KM
Phyllis flew past her 4,000KM target to reach 4,300KM
Karen surpassed her 7,500KM target to hit 10,200KM
Community spirit
The sense of community at Neurokinex on a 'normal' day is strong: it's something we strive to achieve and our clients love the support, encouragement and social interaction that we provide alongside their physical rehabilitation. The Step Up Challenge brought a new level of community spirit – with cheering, laughter and lively conversations sparked by the joint effort and shared goal.
We are so proud of everyone who took part – there was a real buzz of excitement throughout the week and a real sense of achievement among those who took part. The wonderful thing about the Step Up Challenge is how clients who themselves benefitted from those sessions when they were newly injured are going above and beyond to 'pay it forward' for others.
It's immensely rewarding to know that our clients value their sessions so much that they want to make sure other people get the same opportunity to receive specialist rehab after discharge from hospital. As they know, our vital therapy does not only focus on physical rehabilitation. We provide a community at a point in someone's life where they can otherwise feel alone, which brings huge benefits for their mental wellbeing.
Fundraising target
At the end of the Challenge week we were nudging close to our target with £21,626 donated by 615 supporters. Our top fundraisers – Cassie, George, Adrian, Sarah and Kevin – raised an astonishing £11,759 between them for their efforts. We thank them!
Adding on Gift Aid to funds raised so far brings us to just over £23,000 – tantalisingly close to our £25,000 target. If you can donate a little to help us hit that target, you will have helped us secure a Step Up Scheme start for 60 newly injured people in the coming year. Opening this pathway to them will be lifechanging. We thank you!